Our yacht, Pindimara, had been on sale for a few weeks in Darwin, and had in fact already attracted the interest of a couple looking for a production cruising yacht. We were, however, painfully aware that she was stuffed full of our junk, and that we had left all the sails and cushions and cupboards open in an attempt to keep her aired during the hot Darwin summer, so that she looked more like a Chinese laundry than somebody;s pride and joy.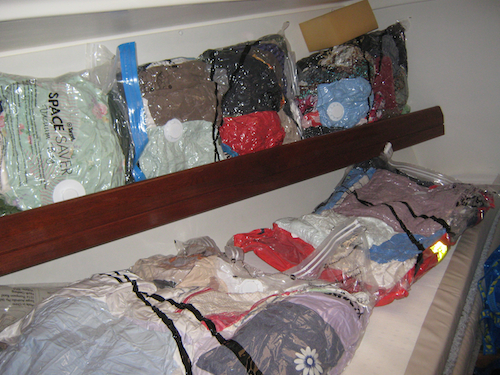 We took a few days off work and flew up to Darwin to move all our gear into storage and give the boat a bit of a scrub; after all, she'd by now been sitting in the marina for almost five months and we thought that she would probably need it. In actual fact she was in fine fettle, just a little damp from several months of tropical humidity which had settled in the bilges. Her decks were tolerably clean and we had suffered no cyclone damage.
Then the monsoon arrived, a monster that settled in across the entire northern half of the continent. Being tolerably well travelled, I thought that I'd seen a bit of rain in my time. This was fundamentally different. Firstly, the air temperature in Darwin's summer months is up close to forty degrees, and humidity is hovering in the nineties. When the rain comes, it's warm. And in a monsoon, it's moving sideways. Reports started to come in of minor tornadoes, and photographic evidence of fish raining out of the sky. There was so much rain that the marina started to fill up and overflow from the run-off, and the boats were bucking at their berths as the water poured in through the storm drains and out through the sluice gates to the sea.
The lock master, Keith, was kept very busy monitoring the levels and adjusting and readjusting the sluices, as well as pumping out sinking boats and rescuing overwhelmed pontoons. Despite all this, he very kindly allowed us to use his office as a sort of half-way-house for our gear, because we had to get it off the boat before we could do anything, and although we had brought many cardboard boxes we only had a limited number of plastic containers that could withstand the torrential rain.
We worked out a system where Bronwyn sweated below as she uncovered ever more boxes of supplies and packed them into plastic containers, while I ran with them back and forth up and down the slippery marina to the office. Whenever the rain paused for a moment, we piled all the boxes we could into Keith's ute and took them to a storage locker, where I unpacked again and then repacked into cardboard boxes before returning to the marina with the empty plastic ones for another load.
However fast we worked, there were always more lockers to open and more gear to check and to move. It took two days to shift a five-year accumulation of gear and stores. The food was particularly exciting; we had a rough idea that we had a few months worth of stores left aboard, but we could have eaten well for almost six months with the stuff that we found. Some of it was pretty exotic, but its hard to move food across state quarantine lines in Australia, so rather than try to ship it back to Perth, we gave most of it to a delighted Keith.
A lot of the gear that we removed consisted of useful bits and pieces that we had kept in the lazarette in case we needed to repair something; spare sets of oars, bits of marine ply, old rope, propeller parts, broom handles and so on. Rather than dump this gear in the skip, I placed it neatly nearby, thinking that perhaps somebody else might like to keep it. To my amusement, the length of time that each part sat by the skip became shorter and shorter as other yachties began to regularly check what was there. After a few hours, I couldn't even walk the length of the pontoon without somebody calling out "Are you throwing away that old rope?" and taking it off me.
We became especially popular when we started giving away fuel, because our tanks were full and we wanted to ship the empty deck jerry cans down to Perth. Bronwyn had a similar experience when she started putting dried food, books, and boxes of cleaning products in the marina's launderette. This was all perfectly familiar, of course. Some of the gear was stuff that I had myself picked up from skips along the way.
Finally the boat was empty, and we began the long process of scrubbing, cleaning and polishing from the bilges to the mast. Still dodging monsoon squalls, we were forever opening the hatches to let in some air, and closing them again to guard against horizontal rain. I was so thoroughly wet that I didn't dare enter the cabin for fear of dripping water into the bilges, so I crouched under the dodger as each squall rolled over.
Finally, only twenty minutes before we had to leave to catch our flight, we were done. Pindimara looked like a million dollars, and pretty similar to the way that we'd first seen her, all those years ago.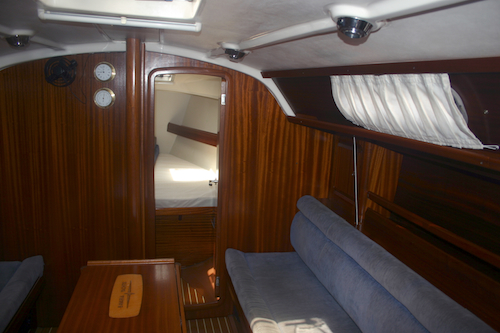 We had thought that we would be shedding some tears, but in the event we never had the time. To a large extent we had got over the grief of parting over the previous months, while we were negotiating with the dealer and putting together a suitable collection of photographs. It's still hard to look back at those pictures without our eyes misting over, but if there's one thing that we have learned, it is that the sea is now in our blood, and we will be back.